Product Testimonials
Dear Noel and Judy,
I bought your CobraHead about 5 years ago when I retired to care for my acre of gardens. I have never had a better tool. It withstands weeding in gravel, between pavers and the rocks around our waterfall and pond. I have bought some for my fellow gardeners and all have been thrilled once they took it in hand and eliminated a weedy area. I volunteer at a local historical garden and have seen your tool in the garden shop for sale so I know they did listen to me when I bragged on it. Keep up the good work, as I will, and thanks for the newsletters. I love hearing what's up in your end of the country.
Thank you for making my gardening easier,
Patricia Jones
Tacoma, WA
"Thank you for creating the cobrahead weeding tool. I love it. It makes weeding fun and I never thought I would ever say that. I purchased it at the energy fair this past June."
Jon Kazsuk
Williamstown Township, MI


"Noel, was it you who gave me the Cobrahead at the Philly show? I see you are not short of testimonials but I thought I would add one from the UK. It is absolutely brilliant and could see how brilliant as soon as I tried it out, so good for getting weeds out from close up to precious plants – including of course roses! With care it gets out really big weeds and gives me a little push up when I have been on my knees for too long!

I will have to get a suitcase full when I come over next time for Christmas presents. Unless there is a possibility of you sending some over for us to resell here in our plant centre?

Thanks so much for it."
Michael Marriott
David Austin Roses
Albrighton, Wolverhampton, UK


"I live in Kennewick, WA. I purchased a CobraHead at the Waitsburg store. I've been CobraHead-ing all weekend. If I had 4 hands, I'd get 2 CobraHeads. I'm 58 years old and have been having fun with my new toy. I have only one request. Puleeeze make me STOP! LOL. David"
David Henricks
Kennewick, WA

"The CobraHead is my only hand garden tool. It does everything! The handle is kind to my hand, and the point doesn't seem to get dull. I recommend the CobraHead in my garden workshops because the company is great and the product is terrific!"
Annie Warmke, co-owner of Blue Rock Station
http://www.bluerockstation.com
Philo, OH

"Hi... I purchased the CobraHead Weeder after hearing a recommendation about it....WHAT A FABULOUS PRODUCT!!!!!! I have been busy planting this spring and love this tool. I can't imagine gardening without it now that I have it. Thank you so much!!!!"
Mary Menendez
Kingston, NH

"Dear CobraHead and Company,

I live in Orange County. NC, famous for it's hard, dense orange (go figure) clay. When I moved down here from NJ 24 years ago one of the very first things I did in the garden was to bust a tine off of a brand new spading fork. In dealing with these soil conditions there have been precious few garden tools which excite me anymore. The garden claw was the first. A couple of eye hoes from Easy Digging .com were next. Then came the Cobrahead weeder. I was a skeptic, just bought the short handle one...it cost less. That way if it didn't work...no great loss. I was surprised and very impressed. The precision it affords is astounding, letting you get in much closed to plants than you could otherwise. The small size allows more force to be concentrated on a small area, thus breaking up otherwise stubborn soil. It glides under mulch, cutting weeds without hardly disturbing the mulch at all. It enables you to take out weeds in a lawn or amid ground cover with little or no "collateral damage".

Well, now I was in sort of a pickle, ya see, I had this REALY GREAT tool...but I also had bilateral knee replacements. Kneeling is something I just don't do any more...for anything, period. I needed that long handle cobrahead weeder. I put it on my fathers day list, it was the only thing on my fathers day list! It was delivered today, unpacked and assembled immediately and tested right after dinner. I was impressed and pleased . In fact the more I used it the more impressed I became. Now I not only had a great weeder, but one which was long enough to double as a walking staff to steady me as I maneuver through my garden.

I can recommend the CobraHead Long Handle weeder without reservation. Strong, replaceable parts, it is truly a must have garden tool."
Boyd E. Hudson III
Orange County. NC

"I want to thank you for donating the short handle CobraHeads for our use at The Rodale Institute. I was so impressed by the performance that I purchased one for my home. I grow vegetables at The Rodale Institute and in my home garden and space them very close within the row and between rows. I've found that the CobraHead works well for cultivating between the tight spaces without damaging the plant roots. It is also very effective for weeding our bark mulch walkways,which are so weedy. I was impressed with the ease of the way it felt in my hand, the light weight and the sturdy structure."
Eileen Weinsteiger, Garden Manager, The Rodale Institute
http://www.rodaleinstitute.org
Kutztown, Pennsylvania

By the way, I really do think your COBRA HEAD is the best tool around for weeding gardens. It is far, far superior to the three and four pronged, bent-fork/rakes. It excels and makes days of work possible in only a few hours. It is so easy to use, so easy to manipulate around plants and so comfortable, that I don't see why the others are still manufactured.... Cheers"
Jeff Lowenfels, America's Dirtiest Lawyer and longest running garden columnist.
http://home.gci.net/~jeff/gardener/
Anchorage, Alaska

If I'm heading out to the garden with only one tool in my hand, it's the CobraHead®! The most frequent maintenance task in most people's garden and especially ours, is weeding. Unfortunately, many of these weeds seem to have deep tap roots. That's no longer a problem as long as we have the CobraHead in hand. It's like a Steel Fingernail®. We actually looked forward to finding the toughest weeds in the garden, and derived great pleasure in popping them out after plunging the CobraHead into the soil and under the weed. We also like the design of this tool in how you approach the weeds from the back side and pull toward yourself. It's a much more natural, ergonomic way to weed. Previously, our tool of choice for deep weeding was the common weeding fork. However, it is designed to be driven into the soil, prying the fork back and forth in a not-so-natural motion. Using the CobraHead actually makes weeding fun. We found tremendous satisfaction in extracting large weeds with their deep tap-roots still attached. We also like the Cobra Head as a fantastic tool for weeding in tight spaces like between sidewalk cracks. The well designed handle created for comfort is made from recycled products as is the rest of this tool and we like that! We love the simplicity, strength and functionality of this great tool! Designed by a gardener to meet a need he was unable to fulfill from any other tool, the Cobra Head meets our needs too, making it a joe gardener Certified BEST OF THE MUST-HAVES™ for 2006."
Joe Lamp'l, host of GardenSMART on PBS. Author, gardening personality, founder, The joe gardener Company, Inc.
http://www.joegardener.com
Marietta, Georgia

"Here's a haiku I wrote about my favorite garden tool:
Blue body, curved head
you pluck weeds from my garden
with effortless joy.
I love my CobraHead and sometime early this summer misplaced it and just couldn't get along without it. When I ordered another, it came within days! Thanks for the great service. I've given several as gifts and tell all my garden friends about this wonderful tool.
Jan Eskridge
Tulsa, OK
"Thanks a lot for the Cobra Head tool. I do ornamental and herb gardening on a shady half acre. I gave it a good test this spring and summer. I have found the Cobra Head very useful for aerating and working with my compost pile, for breaking up soil after it has been turned over, for removing rocks, and for helping to separate tough clumps of daylilies and other perennials. Basically it is like a strong extra hand to stick into those places where I don't want to put my real hand, gloved or not. You may quote me. With best wishes, Betty Mackey Author, "Gardening Made Easy" and "The Gardener's Home Companion." Publisher of garden books at B. B. Mackey Books"
Betty Mackey, Author, Publisher
http://www.mackeybooks.com
Wayne, Pennsylvania

"OMYGOSH! I used my new tool yesterday and I love it! The weeds actually stick to the head as I dig behind them and they come right out!! I'm an avid weekend gardener and although I have a very small yard, keeping up with the weeds is a challenge. I have some arthritis and a tweaky back, so the weed-pulling advantage and ease this tool has given me is invaluable, and it allows me to enjoy my hobby for a longer period each day. The tool does have its drawbacks. I can't use my Cobra Head today - I pulled out every visible weed yesterday!! Thanks for a wonderful product. I'll certainly tell my friends."
Caren Ferrera, Gardener
Huntington Beach, California

"My Cobra Head arrived in the mail today. I immediately unpacked it, and, after carefully oiling it, tried it out in my garden. (I am a seasonal resident here in Maine, and, having just arrived three days ago, there is plenty of gardening to be done.) I am very pleased. The head itself is very good, and probably I'll appreciate that more and more as I get a chance to use it for various purposes through the summer. But I am even more impressed with the total instrument, particularly the angle at which the head is carried off of the handle, and the distance from the handle to the head. It makes it possible to use it as a small plow, as well as for other purposes. At 82, I still do a great deal of my plant and garden care on my knees, recognizing how much more closely I am in contact with my plants and their needs than if I was using a long handle. Thanks very much for sending the Cobra Head just when you promised to do so, and for its great design."
Bill Dalrymple
Georgetown, Maine

"What a great tool. We have been using them for removing quack from the daylily beds and other perennial beds. They are fantastic for removing the quack runners and above ground plants. In addition, they are extremely easy on the wrist. We have volunteers using them and they have been really happy with the tool."
Judy Reith Rozelle, University of Wisconsin - Horticulture Demonstration and Trial Garden
http://www.cals.wisc.edu
Madison, Wisconsin

"Hi Noel: I work at City Farmer with Sharon and she asked me to try out the Cobra Head gardening tool. I used it last Saturday for about 5 hours and it was great. It works really well on clover, which can be a real pain to dig out. I found the handle very ergonomic and the whole tool is quite light so my forearm didn't ache like it does with some other tools. I just wanted to let you know that I thought the Cobra Head was very handy to have around and I think I actually, kind of, maybe, enjoyed weeding! Is that possible?"
Laura Plant, Gardener, City Farmer - Canada's Office of Urban Agriculture
http://www.cityfarmer.org
Vancouver, British Columbia

"CLAW YOUR WAY TO SUCCESS -A great garden tool does the hard work for you. Swing this well-honed hook in a dandelion's direction, and up comes the invader — tap root and all. Use it to cultivate crusty soil, and the hard earth crumbles with ease. The Cobrahead Precision Weeder and Cultivator is remarkably lightweight and perfectly balanced for a gardener's grip. Its parts are simple: a composite handle of "environmentally friendly" plastic reinforced with wood fiber, firmly melded to a rigid steel neck and narrow blade, sharpened on both edges and suited to left- and right-handed users. The reptilian head captures weeds between stones and pavers and in other tight spaces. It also digs furrows and holes for seeds, seedlings and bulbs — without disturbing nearby plants. A keen twist on a classic design, the tool is available from its makers, a Wisconsin family of hands-on gardeners."
Lili Singer, Garden Writer, Los Angeles Times
Los Angeles, California

"Guess what - I bought your cobra head at the garden expo in Madison. I was very skeptical and in fact my Mom bought it for me because I didn't want to waste my money on another hoax. MAN!!! That is the best tool I have. When I weed, I really accomplish something. I get the roots and I know what I'm doing is actually worthwhile. I'm waiting for more weeds now. What fun!!"
Laurie Guthrie, Gardener
Argyle, Wisconsin

"Congratulations on providing the gardening public with a versatile new tool. The CobraHead that I have used for a full season provides a means to perform multiple chores in my garden. With four hundred irises, daylilies and other plants to tend, the CobraHead fills practically all needs for digging, separating rhizomes and furrowing. The unique colorful handle is a plus. Thanks for providing a great addition to my gardening tools."
Jim Kuykendall, Retired Master Judge, American Iris Society
Oakland, Mississippi

"The tool is marvelous and I have used it and love it. I live in one of the areas that you mention as has "almost any soil". In other words, clay and rock, Los Angeles area. I have recommended it to my daughter is Los Altos, Ca. who has the same soil I do."
Dolores Stevens
San Dimas, California

"Hi, I just want to thank you for inventing such a great tool! I used it over the week-end to yank about 25 1.5" diameter maple saplings out of a bank, and the CobraHead made very short work of them. It was amazing! I was also very pleased with how well it weeded my garden. I was also amazed at the speed with which my order arrived. I ordered it on a Thursday and it showed up on Saturday morning! Wow."
Barbara Darnell
Newton, Massachusetts

"I just ordered another CobraHead tool. This time to be delivered to my son so I can weed his landscape beds when I visit! I love the CobraHead tool. It is truly the best gardening tool I have ever owned."
Elizabeth Bell
Saint Paul Park, Minnesota

"Until recently my gardening was done on Cape Cod, where the soil stays sandy no matter how one deals with it, and cultivating can almost be done with bare hands. Not so here in the Tennessee Valley where I now live and garden. The ultra-heavy clay soil is like glue when wet and like cement when dry. On a friend's recommendation I acquired a CobraHead, and wish to report that it has replaced a whole array of other, largely ineffectual tools. I now attack recalcitrant soil without fear and the result is great improvement with minimal effort. You have rescued a 78-year-old gardener from disaster and have earned his profound thanks!"
A. Robert Nelson
Oliver Springs, Tennessee

"Ode to the Cobra

I love my new Cobra it's attributes are many.
The weeds in my garden, there were plenty.
The chickweed, the Buttercup, the 'lions, grew tall.
The Cobra did slash them, the compost I stashed them, in no time at all.
You may think me quixotic to wax laconic; 'tis just a garden tool after all.
But its round-headed shape, its snout like a snake,
Makes me laugh as the weeds take a fall.

My friend and I each bought a CobraHead at the NW Flower and Garden show. What a bargain!
Thanks again"
Annette Baker
Bellingham, Washington

"In addition to using it as my favorite weeding tool, I find the CobraHead invaluable for planting rows for seeds, and for planting smaller bulbs like chianodoxa, hyacinthoides, small allium, etc. CobraHead scoops out a great little divot to use for planting these small bulbs."
Ruth Bauer
Henderson, North Carolina

"The Cobra Head is really versatile. I use it to yank out weeds, roots and all, to draw a furrow in garden soil for planting, for digging out small head lettuces, for making planting holes for seedlings, for scraping the soil to clear out sprouting weeds...in fact, I don't go to the garden without it."
Jeff Cox, Host of HGTV Show
Kenwood, California

"The Cobra Head is a very practical tool with several advantages. I wish I'd had it 28 years ago when I started gardening! After plowing and tilling on our small Community Supported Agriculture (CSA) farm, the beds are intensely planted. Most of the work then becomes 'hand' work. I use the Cobra Head to open furrows to plant, and then again to cultivate, getting as close and deep as needed. It is unbeatable when it comes to uprooting stubborn weeds and rocks, with minimum effort, especially in tight places where a fork or spade would be too large and upsetting to the soil. I also use it to strike a furrow into the clay soil when it's no longer loose. No problem. Finally, the Cobra Head is a down-to-earth tool for the gardener who wishes their first finger was a claw! It's my favorite tool."
Michael Ball, Community Supported Agriculture Farmer
Cambridge, Wisconsin

"I've just spent a relaxing October weekend playing with my new Cobrahead weeder/cultivator. The handle is the best handle for a close weeder that I've ever used. The head itself seems to know what to do about weeds even before I can decide, snaking out and ripping their rotten roots out of the ground like -- well, like a steel fingernail. I can hardly wait to use it for cultivation and seeding in the spring. I work in my garden every day, and earn a living by writing about the subject of gardening. I can hardly wait to share my research on this tool with a few hundred thousand of my closest friends. For the rest of this growing season and the next, the Cobrahead is going to be my constant companion in the dirt. I'm curious to see what it can do that I haven't yet learned about."
Jeff Taylor, Columnist for GreenPrints and Fine Gardening, author of Tools of the Earth: the Practice and Pleasure of Gardening


"I love to garden naturally in my perennial beds and spend countless hours with tools in my hands. The Cobra Head is great for loosening up my heavy clay soil around plants without damaging the roots, before applying compost as fertilizer in the spring. I use the Cobra Head tool to 'hook' out those pesky perennial weeds without a spade—first cultivate around them, then insert the tool under the root and pull. That's it! When planting perennials, I give them a '$20' hole. First I use a spade, then I fine tune the sides and bottom with the Cobra Head tool to get it just right. Rocks can be hooked out very easily. Better than with any other tool I use. Much easier on the back, also. I've found that good tools are like good friends. Enjoy them."
Linda Ball, Horticulturist
Cambridge, Wisconsin

"We mentioned this hand tool in the September 2002 Hort- Ideas (page 98). This spring Pat gave it an extensive workout in our garden, resulting in a big "thumbs up." It's just perfect for weeding between closely-spaced plants in beds. You can use the sharpened side of the tip to dislodge small weeds and loosen the soil between plants, and you can use the tip to get in very close to plants or to dig out bigger weeds. The tip is also great for digging a hole in soft soil for a small seedling. Pat says that after extended periods of use, her hand and arm didn't feel at all strained."
Greg and Pat Williams - HortIdeas - June 2003
http://users.mikrotec.com/~gwill/hi-index.htm
Gravel Switch, Kentucky

"I am the Horticultural Farmer for the Oneida Tribe here at Tsyunhékwa. I have been using this tool for about a year. It is a great tool and we are very happy with its performance as cultivator and weeder. The area I like to use it in the most is around bulbs and onions as it is very thin and can get into those very tough places that most weeders can't. It never seems to go dull no mater how much we use it and we have never had any touble with it breaking or bending."
Ted Skenadore, Horticultural Farmer, Tsyunhékwa, Oneida Nation
http://tsyunhehkwa.org
Oneida, Wisconsin

"Hello, folks! I recieved my Cobra Head a few days ago, and have really given it a workout lately! I planted a lot of Ivy with it today, and it was just the tool I needed! It did everything I needed it to do, with no fuss. It trenched, cut underground roots and above ground vines, easily refilled the trenches, I have weeded with it, cleared the cracks in a sidewalk with it, and disposed of several (!) Dandelions! Easy! It's gotten to the point where I don't leave the house to go into the yard without it. I know that sounds kind of trite, but it's the truth! When the Cobra Head is described as being a "steel fingernail", that's exactly how I use it. I even cleaned the tines of my rototiller with it! Easy! This tool really is all that it's touted to be, and more! I couldn't be any happier with it! In fact, I'm going to order a couple more to give to my brother, and the preacher! Thanks for a fantastic tool that really works!!"
Chris Pedersen Sr.
Asheville, North Carolina

"Every gardener should own one of these tools. It works excellent for just about everything in your garden. It's a very handy tool. Overall I rated this tool as a perfect 10 in my garden. I wouldn't change a thing about it."
Greg Kissee, National Home Gardening Club Product Tester
Modesto, California

"I just wanted to tell you how much that I enjoy your tool. I first saw your tool in the National Home Gardening Club magazine. It was member tested and highly recommended. I am always looking for a tool that will make my life easier, and this is it. I can't believe how versatile this tool is. I have horrible clay that clumps terrible when it is wet and goes like cement when it is dry. This tool cuts through it like butter. I have been digging weeds out with it, edging, cultivating and mixing compost into my gardens. It gets into hard places and efficiently takes out weeds without hurting plants that are close together. Thank you oh so much, for a wonderful tool."
Cathy Bell, Gardener
Crete, Illinois

"NEW WEEDER COULDN'T BE SWEETER By Helen Bale. It's always fun to come across something new; and when it's simple, easy to use and makes life easier, all the better. Normally I am not fond of snakes, in the garden or out, but there's a new hand tool called the Cobra Head, which certainly appeals. It's small (13 inches long and 9.2 ounces in weight), but for the busy gardener, it's worth its weight in gold and then some. Perhaps the full name – the Cobra Head Precision Weeder and Cultivator – says it best. The extremely sharp cobra-shaped head let's you work precisely where and how you wish. Slice out a crowded clump of weeds or dig out one firmly anchored taproot with equal ease. It also cultivates, breaking up even hard soil; digs, plants, transplants and performs numerous other garden-related tasks. For this arthritic great grandmother it has proved a real boon. I used to fill a garden cart with trowels, dibbles, small hand forks of several sizes, a sharp knife and various other hand tools – just to be sure I wouldn't have to make repeated trips to the storage shed. The Cobra Head solves that. Just this one hand-held tool takes the place of them all."
Helen Bale, Garden Writer for Auburn Journal and Gold Country Media
Auburn, California

"Noel and Judy, Just had to tell you that I gave four of the CobraHeads for presents. I've already heard from three of the people how great the tool is, they just love it. I mean Fidel actually raved about it and so did my friend Matthew-- raved!!! So I had to try mine out and sure enough it is fabulous. As one of my friends said, I can do my whole yard in less time than I believed possible. It really works well, love it."
Pat Hyland, friend and gardener
Dearborn Heights, Michigan

"I was really impressed with the tool and the many functions that this tool could do. Never have I been able to get close to the fence and have a tool that would weed and pull fine roots out of the ground. I liked the way that I did not need another tool to smooth out the dirt. This tool was able to go deep and cultivate the soil into a fine workable soil. The soil after using the Cobra Head was so fine it was as though I had used my Mantis tiller. I even used it side ways to smooth out the soil. I was able to work around the spinach plants without breaking off the leaves. It did wonders in my Iris bed and did not break loose any of those plants. Your tool will be carried with me when working in both gardens. I felt comfortable with the handle; the elderly will be able to use this tool without any problems. I will recommend this to everyone that I know who are gardeners. Thank you for this chance to test a wonderful tool. This is the best tool that I have ever used."
Cecilia Kitchen - National Gardening Club Product Tester
Cedar City, Utah

"Hi -- we connected at Garden Writers conference last fall and you sent us a CobraHead precision weeder and cultivator to try. Just wanted to let you know that it's a great product, a really innovative idea and we're more than pleased to recommend it. While it was useful for whacking frozen mulch to free a pot of azaleas in January (to force indoors), it's really come into its own this spring. Our woodland native plant beds are filled with delicate, shallow-rooted specimens ... and of course, there are weeds, too. This single-head tool does a terrific job at very precise cultivating, is extremely strong, and very comfortable to use. We've noticed that it's especially useful in rocky areas, along tight edges, stone walls, and in spots where specimen plants have root systems running close to the surface. Everyone in the crew raves about it and it's in the standard tool kit for bed maintenance -- preferred over all the conventional hand cultivators. Just wanted to pass along applause for a really great innovation in garden tools and our heartiest recommendation and endorsement. thanks again"
Geoffrey Mehl, Pennystone Gardens
http://www.pennystone.com
Henryville, PA

"Thank you s-s-s-s-so much for the Cobra Head garden tool. Sunday afternoon I went out to the garden to try it out and was amazed! I have always employed more of a "soak it and pull by hand" weeding style, rather than using a tool for the job. Battling weeds this way is just that, a battle. Sometimes I win, and the whole root comes up and other times the weeds win, leaving me with a handful of leaves and the intact root unharmed. Now that I have my Cobra Head I can get down below the soil surface and pop that weed right out. I was attacking those weeds with a vengeance (it was almost addicting!) and went on a search-and-destroy mission for several hours."
Wendy Bale, Gardener
Fort Atkinson, Wisconsin

"I love using my Cobra Head! It has been invaluable in my community garden plot. I've used it for cultivating, planting, weeding, and even as a distance/depth-measure! It does a fine job of furrowing and tamping down around seedling transplants without needing to put the tool down. It was especially helpful in getting deep down under dandelion and comfrey roots to remove the entire shoot. I also tend to get sore wrists when using most hand tools repetitively, but the "ergonomically-friendly" design of the Cobra Head had me weeding and cultivating for long periods of time without any soreness in my wrists."
Carol Sherbeck, Community Gardener
Madison, Wisconsin

"Back in May when my little grandson Kade and his Mommy came to see us in MO, they brought us one of your CobraHead weeders. We had never seen one much less used one. Well, we really fell for the thing and feel someone really knew what they were doing when they came up with the idea. Thanks!"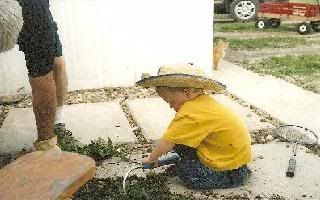 The picture is of our little Kade using Mommy's CobraHead in the Iowa weeds that needed to be removed. Thought maybe you would like to see a little CobraHead user in action.
Linda Herndon
Mexico, Missouri